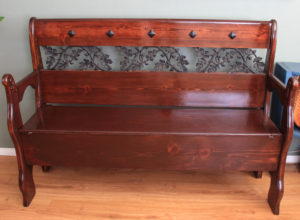 This baroque bench is made from a repurposed bed frame. This solid wood (except for the maple plywood seat lid) piece features a deep cherry gloss finish adorned with ivy metal-work and iron stud headboard.
The bench seat opens for access to storage, and can be "locked" shut with metal tabs under the seat. Great place to keep wine, shoes, blankets, whips, chains, pillows, air mattress…
This heavy, solid wood (except for the maple plywood seat lid) bench is 64″ wide, 45″ tall, 24.5″ deep. The storage area is 14″ long, 59″ wide and 7″ deep.
The recycled bed frame was chopped up to create the pieces of the bench. Once the bench was fashioned, the whole piece was then sanded down to bare wood and refinished with new, deep cherrywood stain and high gloss finish.
This bench is currently still available for local pick-up/delivery in SanDiego County, but is a one-of-a-kind and no more will be available after this one is gone.
Contact me if you are interested in purchasing this bench, or to have your bed frame made into a bench.